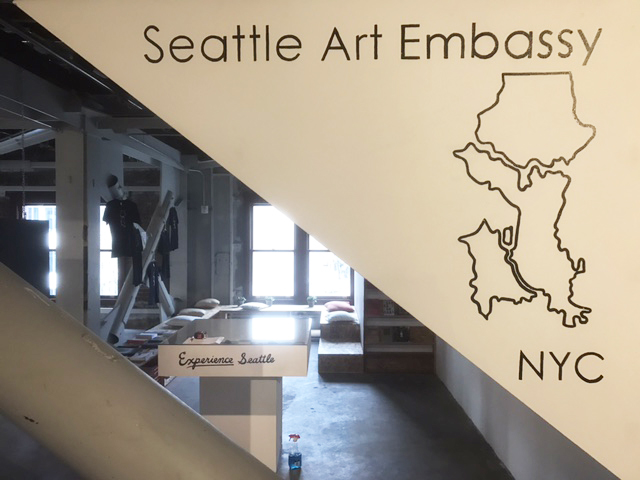 SEATTLE ART EMBASSY




2016

PDL
The Bureau of Arts and Culture


An exhibition outlining 21 creative proposals designed to return Seattle to a place of optimism and excitement. PDL reimagined Seattle through various private- and city-sponsored projects, which, among other things, artfully tackle homelessness, income inequality, cultural tourism, the re-imagining of public space, and the future use of King Street Station, EMP, Harbor Island, Woodland Park Zoo, the Olympic Sculpture Park, and our downtown core.

I was recruited to assemble a library of books from a wide range of Seattle's small press publishers for the Seattle Art Embassy installation. Cultural tourism is a multi-million dollar industry in Seattle. We have world-class art, music and theater. Our underground culture is vibrant and our institutions are vast and diverse. But how do we message this vibrancy to the world? And how do we continue to sustain and grow this cultural wealth to both retain our current creative community and encourage others to move here?

The Seattle Art Embassy is a brick and mortar storefront located in major international centers (New York, Tokyo, London) that's mission is two fold – to exhibit and inform residents and tourists in other parts of the world about the constant wealth of programming, arts and culture happening in our city, and to offer support and guidance to Seattle residentsand artists looking for culture and opportunities in the host city.

The Seattle Art Embassy would mount visual art exhibitions from PNW artists, showcase literature, films and albums, and inform daily the hundreds of arts events happening in Seattle that day, week and month. It would host lectures and readings, films and pop-ups, presenting the city as a dense, active and cultural engine. It is a tourist agency for the city, a art dealer for the city, and a friend to visiting Seattle artists.